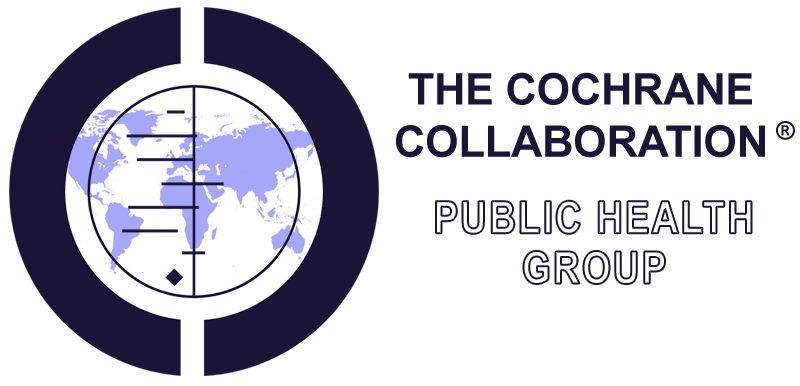 The Cochrane Public Health Group (CPHG) aims to work with contributors to produce and publish Cochrane reviews of the effects of population-level public health interventions. The group is situated within the Public Health Evidence and Knowledge Translation research group, University of Melbourne. The group works on a range of activities linked to CPHG reviews. Read more...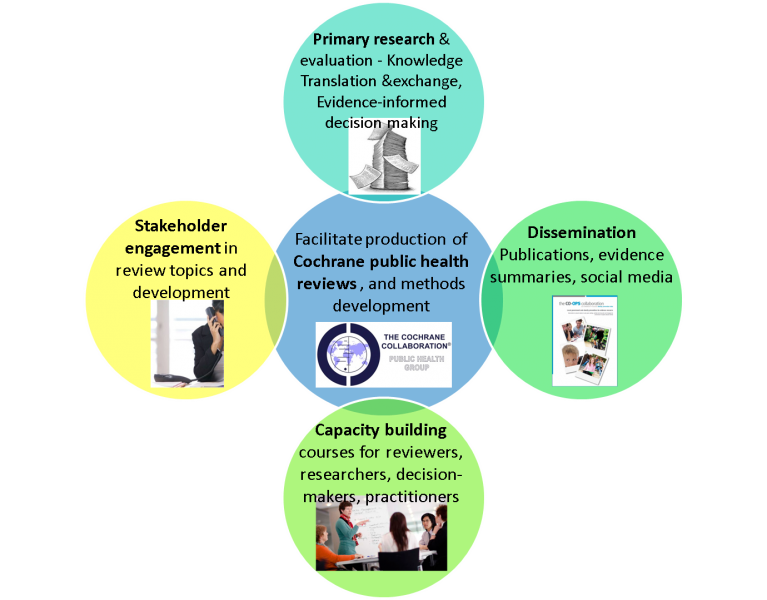 Latest News

Cochrane Public Health Group Author Forum
22nd April 2014 14:00 to 16:30
Manchester, UK

Conducting systematic reviews can be a lonesome and difficult business, and the CPHG are convening an author forum as an opportunity for CPHG authors to meet together and share experiences. The aims of the forum are: to facilitate informal learning through sharing of ideas and experiences; to act as point of contact with CPHG; and to develop local informal support networks. The specific content and topics covered in the forum will be informed by attendees. An overview of developments in the CPHG will be presented but the focus of this afternoon forum will be for authors to meet each other and for informal learning. We very much hope this event will be useful to CPHG authors and anyone involved in preparing systematic reviews of topics relevant to public health, and tackling difficult issues of incorporating non-randomised studies, narrative synthesis, etc..
The forum will be held in Manchester (venue to be confirmed) in the afternoon before the UK Cochrane Annual Symposium starts. Places are limited and registration is essential (see link below). There is no charge for this event but participants will have to pay any travel or accommodation costs incurred.
The link below takes you to the registration web page.
http://www.eventbrite.co.uk/e/cochrane-public-health-group-author-forum-tickets-10309769799
Stipends to attend 2014 Cochrane Colloquium

Are you interested in attending the 2014 Cochrane Colloquium (21-26 September, Hyderabad, India) but in need of financial support?

A limited number of stipends to help cover registration, travel, accommodation and other expenses associated with attending the 2014 Cochrane Colloquium are available for Cochrane consumers and contributors from developing countries.

Consumer and Developing Country stipend applications open 17 March and close 19 May 2014. Please follow the link below for full information on applying.

http://colloquium.cochrane.org/stipends


Page last updated: Thu 10th Apr 2014 5:36:49 CEST