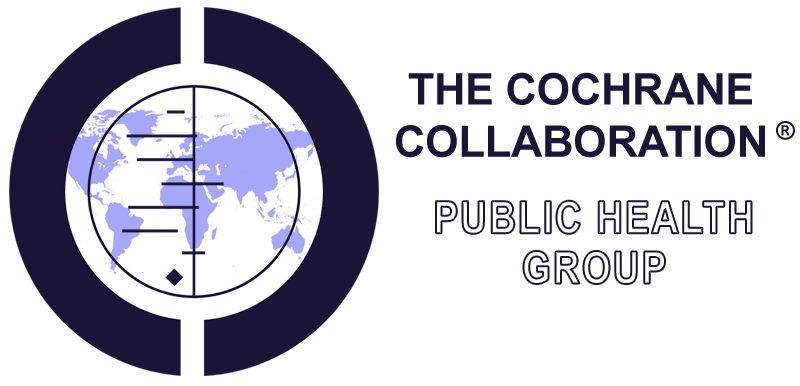 The Cochrane Public Health Group (CPHG), formerly the Health Promotion and Public Health (HPPH) Field, aims to work with contributors to produce and publish Cochrane reviews of the effects of population-level public health interventions. The group is situated within the Public Health Evidence and Knowledge Translation research group, University of Melbourne. The group works on a range of activities linked to CPHG reviews. Read more...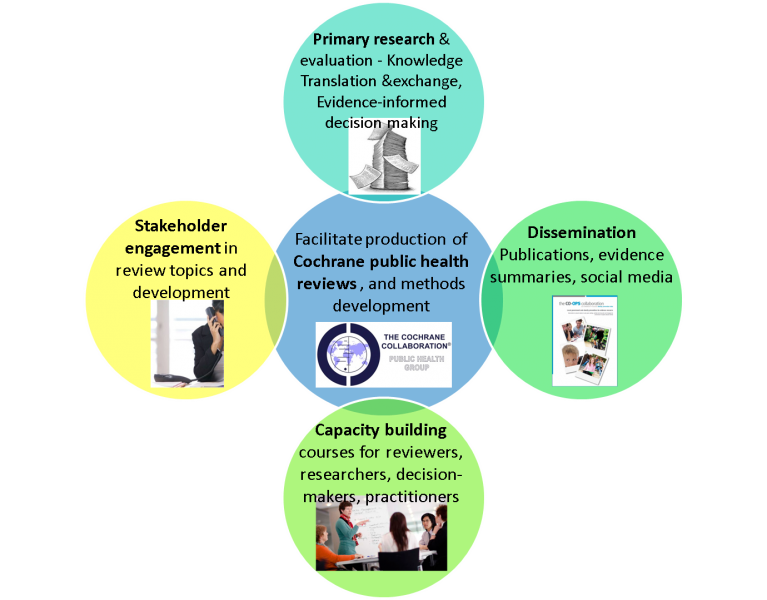 Latest News


FREE Webinar: "School-based physical activity: What's the evidence?"
The Canadian Centre Centre is hosting a free webinar in partnership with Health Evidence that may be of interest to you and your colleagues.

The webinar, "School-based physical activity: What's the evidence?", will present the key messages and implications for practice from the following Cochrane Review:
"School-based physical activity programs for promoting physical activity and fitness in children and adolescents aged 6 to 18".

The webinar will be presented on October 30th from 1300-1430 EDT by Dr Maureen Dobbins, Scientific Director of Health Evidence. Click here for advertisement with more information. Register today!

Cochrane Public Health Group satellite for South Asia: PHESA

It is with great pleasure that we confirm the formation of a satellite of the Cochrane Public Health Group for South Asia based in India. Following the successful symposium at Manipal University in November, an application was submitted for the registration of the satellite and it has been approved by the Cochrane Collaboration. CPHG South Asia will sit within a new enterprise within the Manipal University at Manipal, that will align with the Melbourne editorial team and organisational context under the broad title of Public Health Evidence ­ South Asia (PHESA).
A three pronged structure is proposed:
a) Evidence synthesis (systematic reviews)
b) Primary research (Including methodological development)
c) Knowledge translation (i.e. linking evidence to policy).
The major task of PHESA will be to build capacity to address LMIC priorities in the domain of public health. The satellite plan includes mentoring reviewers for Public Health reviews from the South Asian region, production of review relevant to south Asian region and translation of the knowledge into policy through network of govt. and local level institutions.
The activities will be headquartered in Manipal led by Prof.Sreekumaran Nair (Dr. TMA Pai Endowment Chair in Systematic Reviews and Evidence Based Public Health, & Statistical Editor, CPHG) and Dr Ruhi Saith (Senior Consultant, Oxford Policy Management & Developing Countries Editorial consultant, CPHG)
PHESA looks forward to working with stakeholders to create and disseminate better evidence for good health.
Page last updated: Wed 9th Oct 2013 3:12:36 CEST