Our work and activities
Cochrane Public Health Europe (CPHE) was established in 2015 to support and disseminate the work of Cochrane Public Health in Europe and beyond. Over the past years, several initiatives have emerged in Europe, including in Germany, Austria and Switzerland, with the common goal to promote the development and use of evidence-based methods in public health (e.g. through the German Network for Evidence-Based Medicine and the European Summer School in Evidence-Based Public Health). In line with these initiatives CPHE does:
Disseminate up-to-date public health evidence in appropriate formats

Translate Cochrane Public Health (CPH) reviews

Provide editorial support for CPH protocols and reviews: methodological peer review and assistance in search strategy development

Contribute to a formal prioritisation process for the CPH group

Support CPH authors in Europe and encourage potential review authors to engage in a CPH review

Engage with national and Europe-based public health institutions, in particular WHO and the European Centre for Disease Prevention and Control
Beyond their contribution to the CPH group, the partners of CPHE are engaged in broader joint activities to promote evidence-based public health in their countries and in Europe, in particular methods development for systematic reviews in the public health field and capacity building. Furthermore, the partners contribute to workshops and conferences in Europe and develop joint research proposals.
Partners and governance structure
Currently, the following institutions are partners of CPHE (in no particular order):
Partners focus on different aspects according to their expertise, interests and resources. All projects are coordinated among the partners in order to avoid redundancy and to benefit from potential synergies.

CPHE has a governance committee, with a rotating coordination. As of January 2020, Cochrane Switzerland (Center for Primary Care and Public Health (Unisanté), University of Lausanne (UNIL), Switzerland leads the coordination.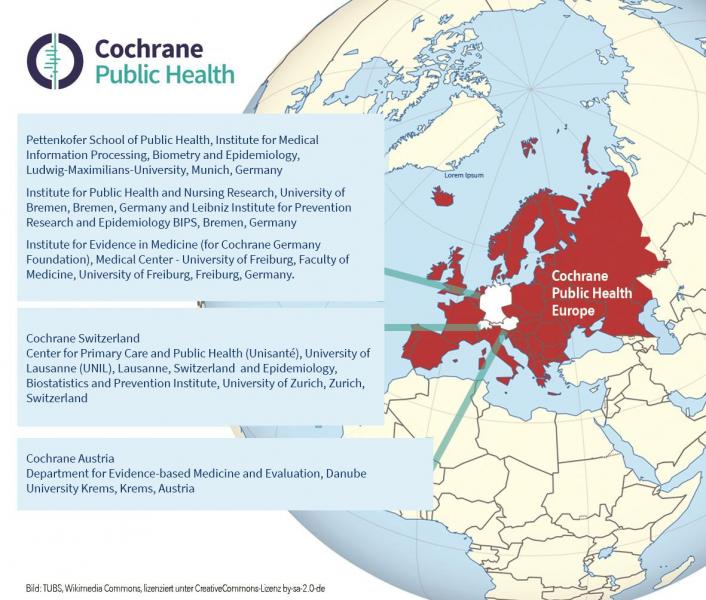 Contact us
For more information, please contact Annegret Borchard (Cochrane Switzerland): CPHE@unisante.ch
Deutsche Version:
Cochrane Public Health Europa
Cochrane Public Health Europa (CPHE) wurde im März 2015 gegründet, um evidenzinformierte Public Health Forschung in Europa zu forcieren und eine starke Basis der Cochrane Public Health Gruppe in Europa aufzubauen. Die Cochrane Public Health Group ist eine von insgesamt sechs Cochrane Review Gruppen im Bereich Public Health and Health Systems und hat ihren Sitz in der University of Newcastle, Australien. Evidenzinformierte Public Health bezeichnet den Prozess der Bewertung und Zusammenfassung sowie der Verbreitung der besten verfügbaren Evidenz aus Forschung und Praxis mit dem Ziel, die Maßnahmen für den Erhalt und die Förderung der öffentlichen Gesundheit und der Gesundheitspolitik auf eine gute Informationsbasis zu stellen. In Cochrane Reviews werden alle relevanten Studien und Forschungsergebnisse für bestimmte gesundheitswissenschaftliche Fragestellungen zusammengefasst, um gesundheitspolitischen Entscheidungsträgern eine unabhängige, wissenschaftlich gesicherte Informationsgrundlage über den aktuellen Stand der Forschung zu bieten.
Was machen wir?
Die Aufgaben von CPHE umfassen folgende Bereiche:
Stärkung des Wissenstransfers durch Verbreitung von aktueller Evidenz im Bereich Public Health in deutschsprachiger Form

Editoriale Unterstützung für Cochrane Public Health Protokolle und Reviews: methodischer Peer Review und Unterstützung bei der Entwicklung von Suchstrategien

Beteiligung am Priorisierungsprozess der Cochrane Public Health Gruppe

Unterstützung von Review-AutorInnen im Bereich Public Health in Europa und Gewinnung und Schulung neuer Review-AutorInnen

Aufbau von Kooperationen mit nationalen und internationalen Public Health Institutionen in Europa
Wer sind wir?
CPHE ist aktuell ein Zusammenschluss von mehreren Partnerorganisationen in den drei deutschsprachigen Ländern Österreich, Deutschland und Schweiz:
Wie arbeiten wir?
Eines der Partnerinstitute hat jeweils die koordinative Leitung von CPHE. Ab 2020 hat Cochrane Schweiz diese Aufgabe übernommen. Ein gemeinsamer Arbeitsplan wird jeweils für 2 Jahre entwickelt. RepräsentantInnen aus der Cochrane Public Health Gruppe fungieren als beratendes Gremium. Es gibt ein jährliches Treffen aller Partnerinstitute und regelmäßige Telefonkonferenzen.
Kontakt
Für weitere Informationen wenden Sie sich bitte an: CPHE@unisante.ch